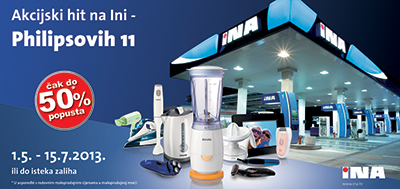 INA prepared another loyalty program for its loyal customers, which runs from 1 May to 31 July 2013 (or until stocks last), where you can achieve up to 50% discount* on 11 Philips products.
Refuel or buy any product or service at any INA's retail site, where for every HRK 60 (or HRK 250 for drivers of trucks or buses) you spent, you get one label at the register.
Collect the required number of labels (10, 15, 20 or 25, depending on the desired product) and attach them to the accompanying booklet, which is given to you at the register as well.
Offered products are small household appliances and devices such as digital picture frames, a mixer, electric kettle, steam iron, epilator and shaving appliances, so we believe that everyone will find something suitable for them. Labels can be collected at all INA retail stores and used at selected INA retail locations involved in the loyalty program. By collecting labels you are agreeing to the terms and conditions of promotion about which you can learn more at INA retail locations.
*compared to regular retail prices in the retail network