Refining & Marketing
Refining and Marketing is in charge of the refining operations in Rijeka, activities on the Sisak site, business development, the commercial wholesale network on domestic market and trading activities on foreign markets. It also operates the logistics network for storage and distribution of petroleum products, purchase and sale of natural gas, and the production of engine oils and lubricants that meet the highest European standards.
The key refinery products include the following: EURO V quality petrol and diesel, bio-component fuels, special Arctic diesel for winter conditions, liquefied petroleum gas and autogas, jet fuel, heating oil and other products. INA's core markets are Croatia and Bosnia and Herzegovina, while the company is also present on export markets of Slovenia, Serbia, Albania, Hungary and the Mediterranean.
The aim of Refining and Marketing is to improve profitability and sustainability, strengthen synergies and operational flexibility by increasing logistics connections, and to further improve the competitiveness of the Rijeka Refinery by increasing energy efficiency, operational availability and improving the conversion rate through the investment in the heavy residue conversion plant. Also, the aim is to transform the Sisak site with a focus on renewable energy sources.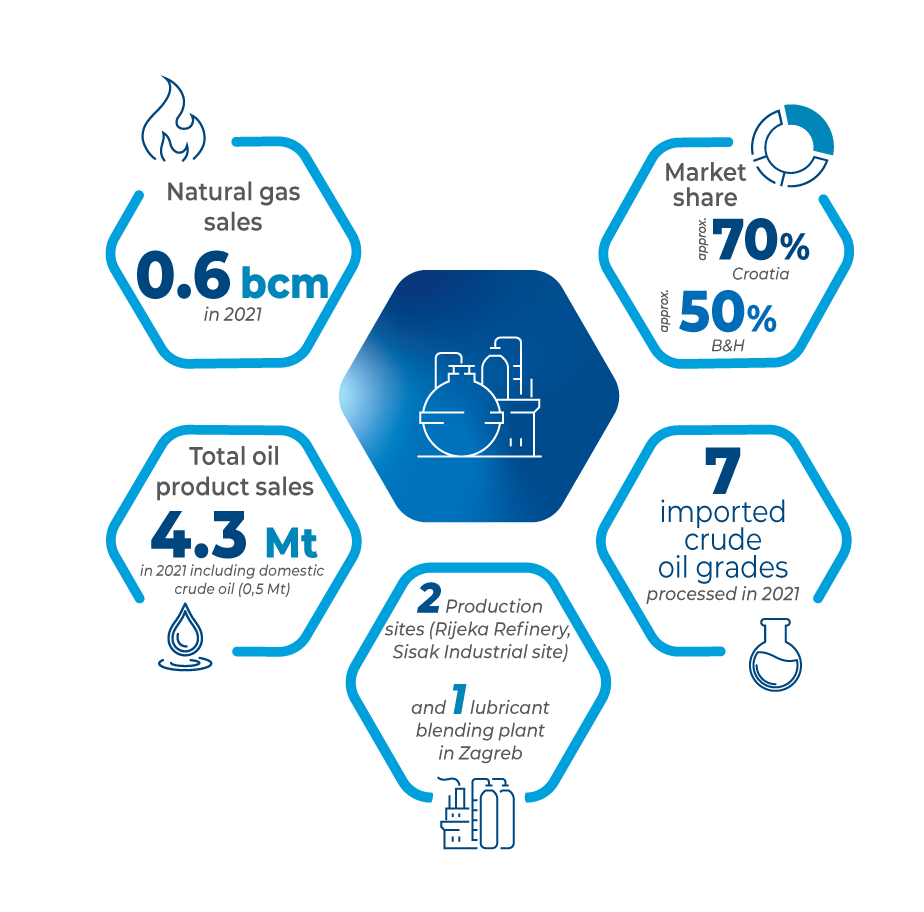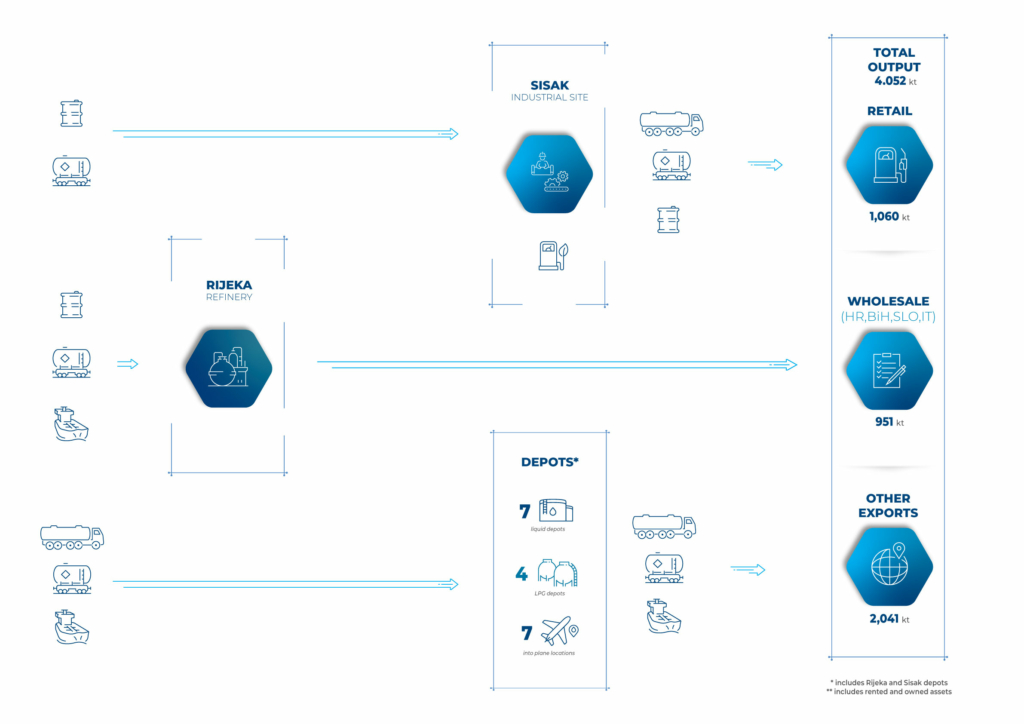 Rijeka Refinery
Refineries and Marketing continue to demonstrate a firm commitment to transforming the business segment toward a financially sustainable future. The key part of this transformation is the Rijeka Refinery Upgrade Project. Once completed, the project will considerably boost the Refinery's complexity and efficiency, while the production of high-value products and capacity utilisation will reach maximum level, thus eliminating the need for imports. The total investment is worth about HRK 4 billion, which makes this the single largest investment project in the Company's history in Croatia. By investing in the construction of the heavy residue conversion unit, the reconstruction of existing units, a new port with a closed storage and a greater overall complexity, the Rijeka Refinery will become a modern European refinery and retain its leading position on the domestic market, while fortifying its presence in the region.
Location in Sisak
The Sisak industrial site is a valuable part of INA's business and the Company will continue its business activities there, maintaining its position as the leading employer and investor. In the transformation of the Sisak site, the focus is on projects that will add a new value chain to our traditional businesses, by entering business opportunities in the field of sustainable energy sources.