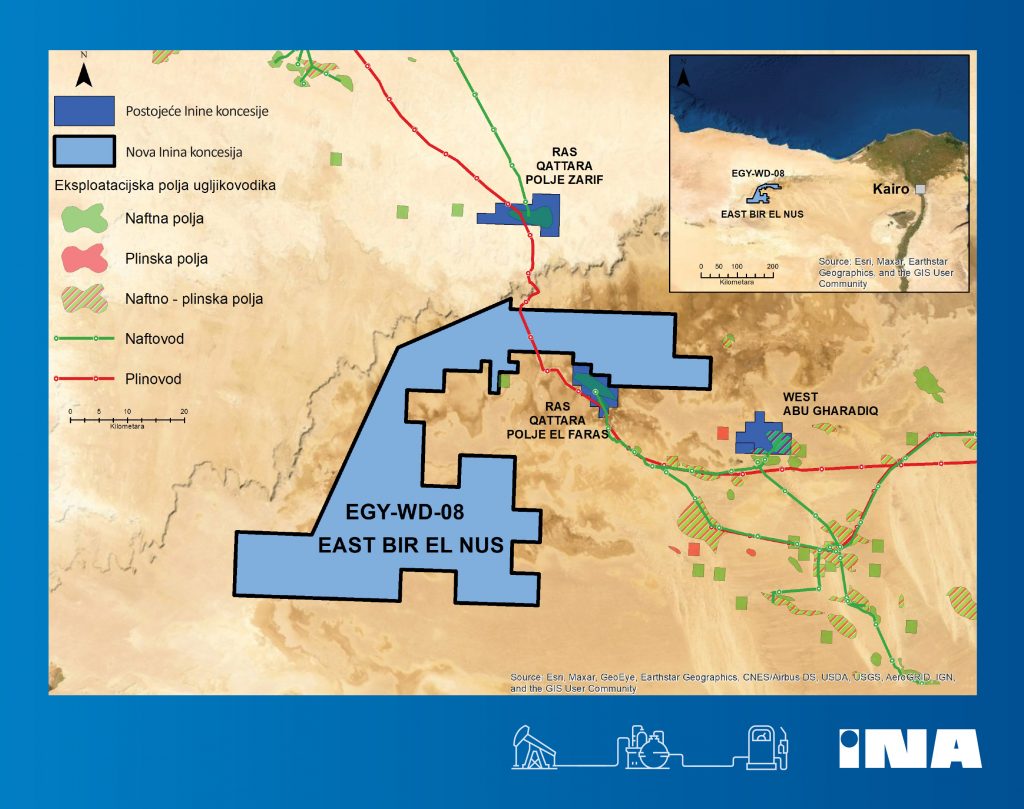 Zagreb, 3 March 2022 – INA was awarded an exploration licence for the East Bir El Nus concession (Block WD-8), located in Egypt's Western Desert. This is a follow-up to INA's activities on this key foreign market for the company in terms of oil and gas exploration and production.   
 INA enters the new exploration licence as a 50% partner, while the remaining 50% is held by Energean, which will also be the operator. In the coming period, Energean and INA will finalise the licence agreement with the Egyptian Government and the Egyptian national oil company, and before it enters into force it will have to be confirmed by the Egyptian Parliament.
 "Over the past year, INA has taken a significant step forward in the Egyptian market. Last year, together with our partners we secured the licence for Block 10, East Damanhur, and have already initiated exploration activities there. With our respectable and well-known partner, we are now entering the new concession, thus creating preconditions for new oil and gas production and replacement of our reserves. This is made possible by projects such as this one, as well as the intensive activities we have launched on our existing gas fields in the Adriatic and in mainland Croatia," said Nikola Mišetić, Operating Director of Exploration & Production at INA.
In their bid, INA and Energean committed to conduct a 180km² 2D seismic survey and a 200km² 3D seismic survey, followed by at least two exploration wells.
INA has been present in Egypt for more than 30 years, mostly focusing on the Western Desert region, as an exclusive operator with a 100% share in the East Yidma concession, and as a partner in four concessions – East Damanhur, North Bahariya, Ras Qattara and West Abu Gharadig. In recent years, the company has increased its investments in the country, and INA's daily petroleum production in Egypt in 2021 amounted to 1,737boe/d.
About INA Group
INA Group plays a leading role in oil operations in Croatia and an important role in the region in oil and gas exploration and production, oil refining and distribution of oil and petroleum products. The company comprises several subsidiaries fully or partial owned by INA, d.d. The Group's seat is in Zagreb, Croatia. Apart from Croatia, INA also has upstream operations in Angola and Egypt. Oil refining takes place at the Rijeka Refinery, while sustainable alternative businesses are being developed at the Sisak industrial site. INA's regional retail network consists of more than 500 retail outlets in Croatia and neighbouring countries. INA Group is a member of MOL Group.
ABOUT ENERGEAN
Established in 2007, Energean is a London Premium Listed FTSE 250 and Tel Aviv Listed E&P company with operations in eight countries across the Mediterranean and UK North Sea. Since IPO, Energean has grown to become the leading independent, gas-focused E&P company in the Eastern Mediterranean, with a strong production and development growth profile. The Company explores and invests in new ideas, concepts and solutions to produce and develop energy efficiently, at low cost and with a low carbon footprint.
 PR
Avenija Većeslava Holjevca 10, Zagreb
Phone:  01 6450 552| @: pr@ina.hr