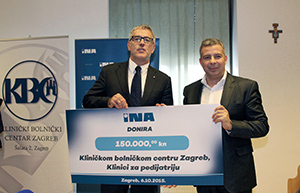 INA's donation in the amount of HRK 150 thousand will enable the University Hospital Centre Zagreb to procure necessary medical equipment intended for better care for the patients of the Department of Pediatric Hematology and Oncology, and the visit of the members of Croatian national football team, Dario Srna and Ivan Rakitić especially cheered up the young patients, who were also presented with gifts.
On this occasion, Mr. Áldott said: This is not the first time we collaborate with the University Hospital Centre Zagreb, and I am pleased that INA could once again contribute to a better quality of young patients' treatment since we have always been particularly sensitive about them. We have strengthened our delegation with the members of Croatian national football team, which made the young patients very happy. "
"I would like to thank INA for once again recognising the need and donating the funds for the procurement of essential medical equipment for the Institute of Pediatric Hematology, Oncology and Hematopoietic Stem Cell Transplantation of the Department of Pediatrics, University Hospital Centre Zagreb. This donation will improve the working conditions and ensure treatment for a large number of our patients who come from all over the country, but also create the potential for further expansion of the health services provided by the University Hospital Centre Zagreb", said prof. Hrvoje Vrčić.
INA's donation will allow the University Hospital Centre Zagreb to procure medical devices, which enable simultaneous administration of different medication, while being able to accurately calculate the amount and rate of the medication infusion at the same time, which is crucial in the process of treating oncological and hematological patients. These devices are of great benefit for seriously ill children who receive as much as seven or eight types of cytostatics during the cancer treatment, as well as for children after bone marrow transplantation, when they are completely dependent on parenteral rehydration, nutrition and medication. This Institute is the only place in the Republic of Croatia where allogeneic bone marrow transplantation is performed (i.e. the donor and the recipient are different persons), and over the years the need for this form of treatment has more and more increased.
Assisting the community in which the company operates is at the very core of INA's business and the company will certainly respond to such appeals in the future in order to help the children, as well as the adults, when they need it the most.