Spajalica
Project "Spajalica" is part of the wider initiative "Space for Your Ideas" initiated in September 2014 as part of INA's corporate social responsibility, with the aim of granting the use of selected real property owned by the company to the associations and individuals whose work would continue to contribute to the quality of life of the local community.
The first two locations where the project was initiated are the INA building in Medulićeva 34, in the very city centre, and premises in Sesvete.
We have signed a three-year contract with five partner associations (Association Love in Action, Croatian Association of Deafblind Persons Dodir, the Association for promotion of culture and art JA BIH …, the association RED NOSES clowndoctors and the association Dar), and during September 2015 they moved into their premises in Medulićeva, while the location in Sesvete is used by the association Krila – Therapeutic Horseback Riding, Association of persons with Cerebral Palsy and Polio, on the basis of a ten-year contract. In September 2016 the new outdoor riding field was presented, built by INA and its partners as part of the "Let's add another feather in their wings" initiative.
In the preparatory phase of the project, joint actions were organised in cooperation between the INA Volunteers Club and volunteers from the associations. The volunteers painted the walls of the staircase in Medulićeva, with the motives relating to each association, and they cleaned the areas of the external arena and the areas around the office buildings in Sesvete.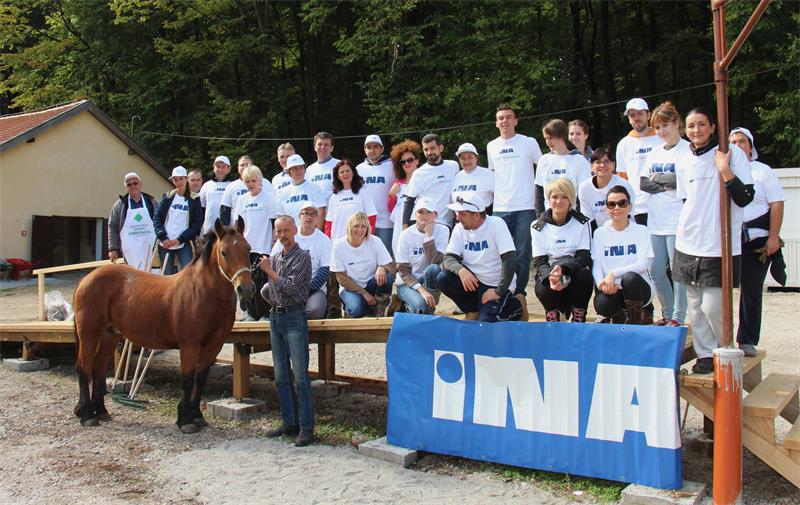 Why spajalica?
The process of designing the name and visual identity of the project was realised under the creative leadership of Krešimir Katušić, a freelance artist and sculptor.
The name "Spajalica" <Bond> was chosen as a symbol of connecting different associations (different individuals and faces) in one place, which above all will become a platform for further help to own protégés/members, but also a place of cooperation among the associations and with INA on different projects useful for the wider community.
Through this project INA has become a pioneer of socially responsible real-estate management in Croatia and gained recognition. The Croatian Association of Public Relations assigned the Grand Prix awards as the best communications project in 2015 in the category CSR, while in June 2016 the project won the Golden Barrel Award, the first MOL Group business award, for "employee inclusion".