External circumstances significantly affected INA Group financial results
Several crises that stroke global economy in 2020, including decreased demand due to Covid-19 crisis and sharp drop in hydrocarbon prices, reflected negatively on INA's financial results.
INA introduced financial and operational measures in order to ensure company's liquidity and stability and to preserve funds for strategic investments.
The Residue Upgrade project in Rijeka Refinery continues.
Key achievements:

Net sales revenues amounted to HRK 14,788 million
CCS EBITDA excl. special items amounted to HRK 1,783 million
CAPEX amounted to HRK 1,282 million
Net Operating Cash Flow amounted to HRK 2,198 million
Zagreb, February 18, 2020 – The year behind us, 2020, was one of the most challenging years for global economy, but also for INA. Regardless of the partial oil market recovery in the second half of 2020, oil and gas prices were more than 30% lower in average compared to 2019. This had significant impact on the Upstream result, but the severe mobility restriction and significant decline in economic activity in general, caused by lockdowns, also impacted the Refining and Retail operations.
Company's timely reaction to changes in the macro environment helped to maintain INA's cash flow at positive level, while at the same time securing stable financial position. Operational result moved in line with the deteriorated environment while CCS EBITDA excl. special items of INA Group dropped to HRK 1,783 million. The result was also significantly impacted by one-off non-cash items.
Operation of Exploration and Production, traditionally the main driver of result, was marked by the mentioned drop in realized prices of 32% and 13% lower production due to natural decline. This drove EBITDA to HRK 1,013 million. CCS EBITDA excluding special items of Refining and Marketing including Consumer Services and Retail stayed strong at HRK 639 million in 2020, mainly due to Retail contribution, although reported result of the segment remains negative, additionally impacted by the one-off costs related to Sisak site transformation. Retail performance and sales volumes deteriorated due to the weaker tourist season and lockdown, with volumes decreased by 16% year-on-year, still the segment had a strong performance considering the challenging environment.
Investment activities were also adjusted in order to safeguard the financial stability of the company, which resulted in 40% lower net debt compared to 2019 and gearing of 14.7%, while at the same time INA stayed committed to the strategic projects.
Statement of Mr. Sándor Fasimon, President of the Management Board of INA:
"In 2020 INA Group managed to keep its stable financial position and continue with the strategic projects, despite the fact it was a year unpredictable and challenging for many segments of the world economy, oil & gas industry being among the heavily impacted.
Unforeseen drop in the hydrocarbon prices, at first driven by OPEC+ disagreements and then deepened by COVID-19 pandemic, affected even the biggest oil & gas players. Timely reaction of INA management, including postponing non-critical investments and numerous internal optimization activities, enabled us to secure financial position of the company. With such reaction we protected our long-term strategic investments, such as Rijeka Residue Upgrade Project, in order to ensure sustainability of operations on the long run.
As for the 2020 results, they are mainly driven by external factors, with drop in both product prices and market demand. During the summer months some positive effect was achieved by somewhat better tourist season than expected, but the overall effect on 2020 resulted in deteriorated results. Exploration & Production experienced 32% lower realized hydrocarbon prices, further impacted by the lower production. In such environment, 16% decrease in Retail volumes can be considered a solid result, as INA kept its market share on core markets.
With the adjustment of economy to the ongoing pandemic the oil & gas prices started to recover close to the 2020 end, but return of oil & gas industry to pre-crisis levels will not be quick. Therefore, INA will continue with its strategic projects and adjustment to the new environment, strengthening our future growth potential."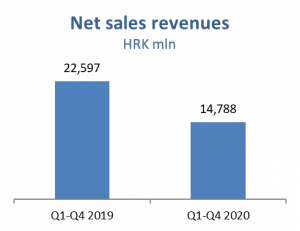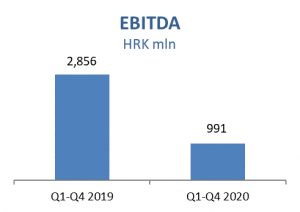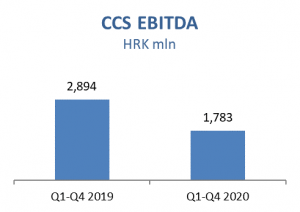 Exploration and Production – Net sale revenues in 2020 decreased compared to the 2019 and amounted to HRK 2,188 million, while CAPEX amounted HRK 442 million, out of which HRK 349 million in Croatia. Average hydrocarbon price decreased by 32% negatively impacting sales revenues.
Domestic crude oil production was lower as a result of natural decline and increased water cut on main fields. However, crude oil production in Egypt increased by 3% in 2020. Slightly higher production at North Bahariya and East Yidma concessions was offset by lower Ras Qattara and West Abu Gahradig production. Investment level decreased compared to 2019, as result of projects rescheduling due to Brent price decrease and COVID-19 pandemic. INA undertakes activities aimed at mitigating negative trends – on Izabela offshore exploration area drilling of well Irena-2 was completed in October and well testing is completed with gas confirmed, on Drava-02 exploration area well testing of Jankovac-1 well was successfully completed and will be followed by commercial discovery decision, and on Drava-03 in mid-September seismic activities are on-going on Crnac West polygon.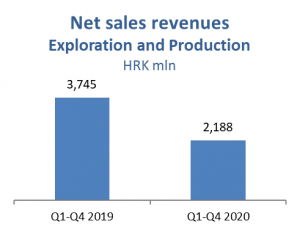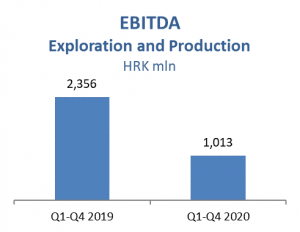 Refining and Marketing, including Consumer Services and Retail – In 2020 net sales revenues amounted to HRK 14,153 million. Negative reported result reflects sharp drop in Brent price and product quotations, causing negative change in inventory value. CCS EBITDA excluding special items increased by 15% and amounted to HRK 639 million, mainly driven by improved Retail results. Refinery margin remained under pressure due to less favorable crack spreads of key products.
Processing was lower in 2020 by 399 kt due to the planned economic shut down of the Rijeka Refinery during November and December as a result of unfavorable external conditions and negative refinery margins related to the COVID-19 pandemic. Furthermore, total Retail sales volumes at 938 kt decreased 16% compared with the same period last year due to the negative effects of the nationwide lockdowns and weaker tourist season.
Total CAPEX amounted to HRK 748 million. R&M CAPEX amounted to HRK 622 million, mainly driven by Residue Upgrade and Propane-Propylene Splitter projects, and partly Biorefinery project. Consumer Services and Retail CAPEX amounted to HRK 126 million, with a focus on reconstructions and the Fresh Corner concept roll-out.
On December 31, 2020, INA Group operated a network of 505 service stations.